Finding homes is now Quickteller easy
Introducing Quickteller Homes, the latest cool kid on the block and the easiest way to find or list homes in Nigeria.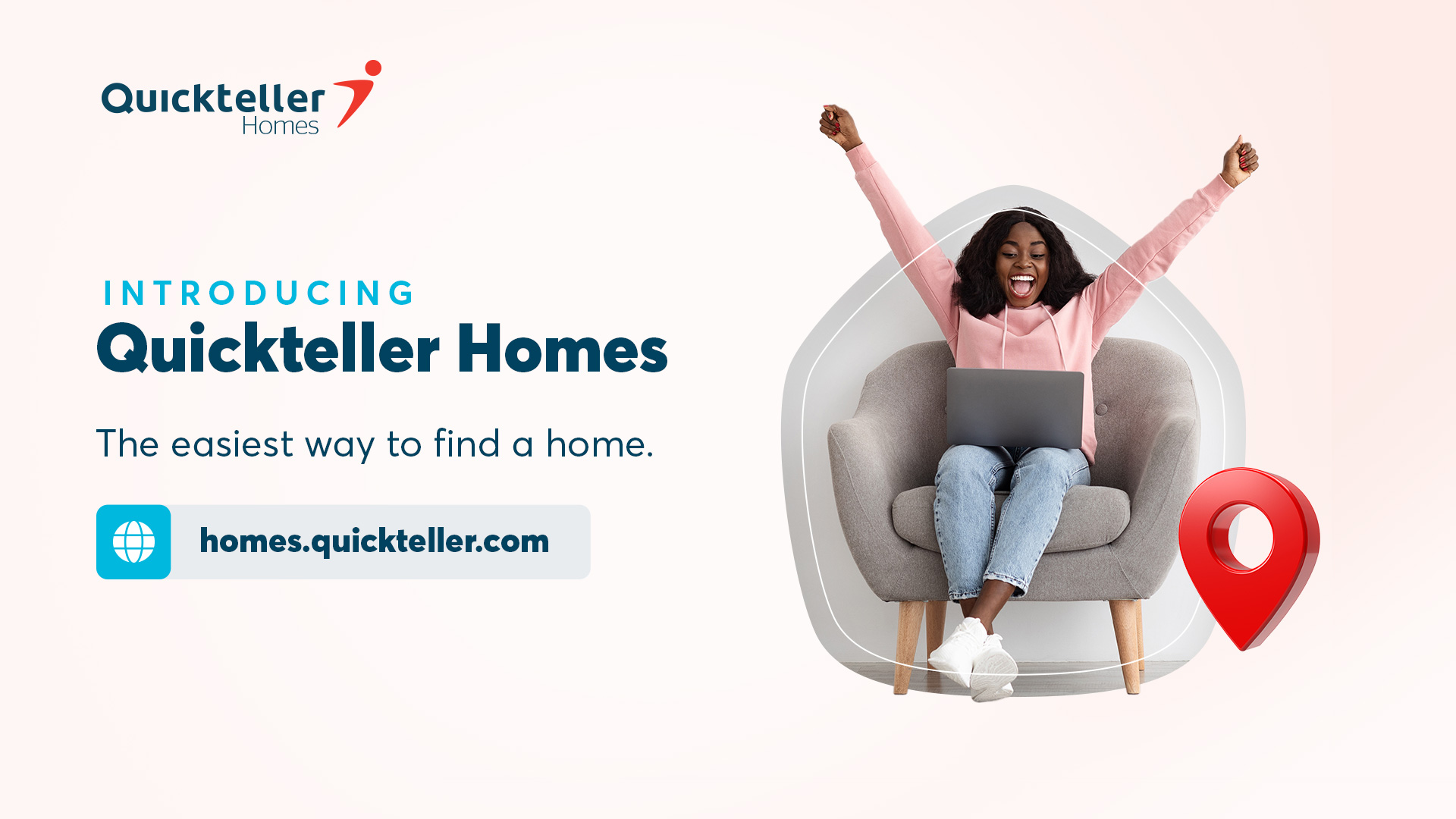 Quickteller started out as a platform that made transfers and bill payments seamless and easy. Today, Quickteller is capable of so much more. Over 5 million Quickteller users can now request for loans, purchase airtime in one click, pay electricity bills, and top up their betting wallets on the app.
While we continue to deliver an enjoyable payment experience to our over 5 million customers, the goal for us is to become an ecosystem of solutions that enhances the lives of our customers in every way possible.
As we reaffirm our commitment today to keep delivering value to our customers, we are excited to unveil Quickteller Homes.

What is Quickteller Homes?
Quickteller Homes is the easiest way to find a home. It is a digital platform that connects all stakeholders in the housing market with services that provide solutions to their housing needs.
The platform serves as a marketplace where landlords and agents can list apartments/properties and interested tenants rent those apartments/properties, without any drama or stress. It is designed to make flexible payments available to tenants while giving landlords and agents access to a large pool of quality tenants to occupy their listed and published apartments.

What's in it for landlords and agents?
Quickteller Homes ensures that agents and landlords earn smarter and rent out their apartments seamlessly through key features such as the property tour scheduler, and property dashboard. For homeowners or agents, Quickteller Homes offers them;
A platform to list and publish properties and reach a large pool of potential tenants
Fast occupancy of listed and available properties
Guaranteed payment on all rent (for landlords) and rent commission (for agents)
Leveraging the high consumer base of Quickteller (over 5 million)– to showcase listed properties to many tenants for rental.
Agents can list properties for free for a full year.
Agent / landlord can set house maintenance rules to ensure the right tenant fit

What's in it for home seekers?
With Quickteller Homes, Homeseekers can now find a home that matches their style and budget. Finding the right apartment at the right price is easy on Quickteller.
Easy access to properties for rent. See a wide range of available listings
Variety of houses and payment flexibility (Annual, Quarterly, or Monthly payment options)
Easy support to tenants and convenient booking and scheduling of appointments (property tour)
Efficient and cost-effective house hunting process. Reduce the time to find and rent a home.
What's the first step?
Because Quickteller Homes is one of the new innovative products in the Quickteller Ecosystem, Your Quickteller account automatically gives you access to Quickteller Homes. Please visit homes.quickteller.com or click here to get started.
As a landlord, you can start listing your home from today. Please visit homes.quickteller.com/landlord or list for free here. If you know any agent or landlord who may benefit from this platform, please refer them to Quickteller Homes so they can earn smarter and list easier.
Got Questions? We've got answers, click here to access our FAQs page.
P.S This is still 'work in progress', you are one of the very first people to experience this masterpiece, and we will be glad to have you co-create with us. More features and services will be switched on soon, and the plan is to keep innovating until home rental is absolutely easy. To help us do this, please try out the platform, share it with a few friends, and share your feedback here.
Here's to more amazing feats and making every day easier for you.
We are just getting started!
---