Leading Company in Diversity – How We Brought it Home
We were recently recognized as one of Nigeria's top five companies in Diversity, Equity, and Inclusion (DEI) according to a report by advisory consulting firm, Hofstede Insights.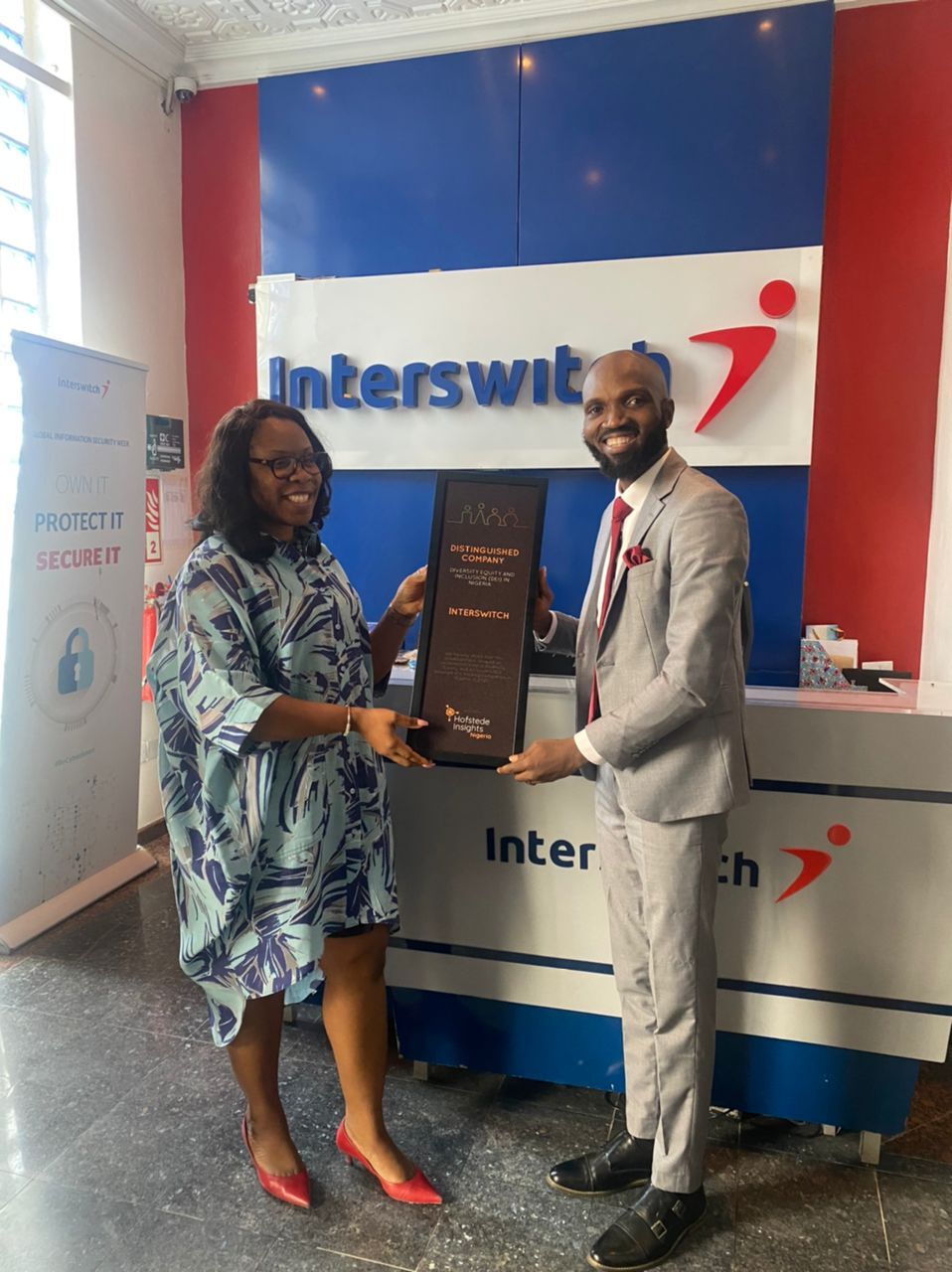 While we are accustomed to receiving recognition, this hits home differently; more because our people are at the heart of our business and this recognition speaks to our relationship with our people and the culture we have built.
Our reality
One of the first things you'll notice in your first week at Interswitch is how much we enjoy each other's company. From very important meetings to quick standup sessions and chilled team bonding outings, we always find a way to connect. Collaboration is big for us, no doubt, but it goes beyond that. It's a testament to the quality of thinking we bring into each conversation and how impactful our internal engagements are. And that's the beauty of diversity – diverse backgrounds and experiences mixed into one large potpourri of collaborative innovation.
When we say we encourage diversity, what do we mean?
It means Hauwa from Kaduna can retain her tech sis status without having to lose her hijab or muslimah convictions. It means we won't look at Jay funny because his dreads are covering his face or his beliefs are divergent from public opinion. It means Hauwa and Deborah can work together closely, completely focused on their humanity and the skills they bring to the table, not at all bothered by the obvious differences in their completely different backgrounds or ideologies towards life. It means everyone gets a fair fighting chance at an Interswitch interview. The conversation is always about competence, and capabilities, never about ethnicity, gender, religious beliefs, political divides, physical abilities or socio-cultural ideologies.
It's in our culture
At Interswitch, we are particular about the culture that drives our work. A culture of empowerment, inclusion and possibilities. Since culture is driven and entrenched by experiences, we ensure that the quality of experiences our employees have is rich and inclusive and that it's uniform across the board.
Diversity and inclusion imply that we choose humanity over race, gender, ethnicity or origin. Competence over religious orientation. Ability over peculiar worldview or outlooks. Hence certain things never come up at interviews or onboarding sessions, and will never be considered during productivity appraisals.
While we understand that your experiences, exposure and convictions shape you, we are also aware that they do not define you. Instead of being intimidated by peculiar perspectives or divergent worldviews, we see them as opportunities to learn, to see life from another perspective and gain more exposure. That's the energy you get from the light office banters or the passionate debates – mutual respect because you are first a person; professional regard, because if you didn't know your onions, you would not be in this room; curiosity, because I recognize that I don't have the monopoly of knowledge; enthusiasm, to see the world from your own perspective; generosity, to share my views, findings and experience with your as well and; community, to find the balance between our standpoints and create something amazing together that will benefit the world we both share.
It's in our products
We also recognize that our customers are more divergent than we are. Since customers are the reason we build, and their convenience and empowerment are at the core of all our activities, factoring their different experiences and realities into the way they interact with and experience the product brings us closer to building products that not only solve their problems, but are also relatable enough and easy to engage with.
That's another reason we are always excited to throw our doors open to skilled people from different backgrounds, races, religions, political affinities and general worldviews. We know that the more diverse our team of professionals are, the more robust and inclusive the experiences we build are likely to be.
We have proof
We were recently honoured for diversity and inclusion in the workplace by……alongside other leading global organisations. We are glad to exemplify standards for Africa regarding workplace culture and employee inclusiveness. This award is for us a reminder that we cannot rest on our oars and we must continue to do more.
There's a place for you
So if you've got skills and competence, are passionate about Africa and are interested in solving real problems with technology, come along for a ride with us. Here, your uniqueness will not be judged or sidelined, it will be celebrated and appropriated.
The world is a massive dish of ideas, isn't it? We are here for the flavour you bring!
---