Mariam Akindele: The HR Maestro who Loves to Give Back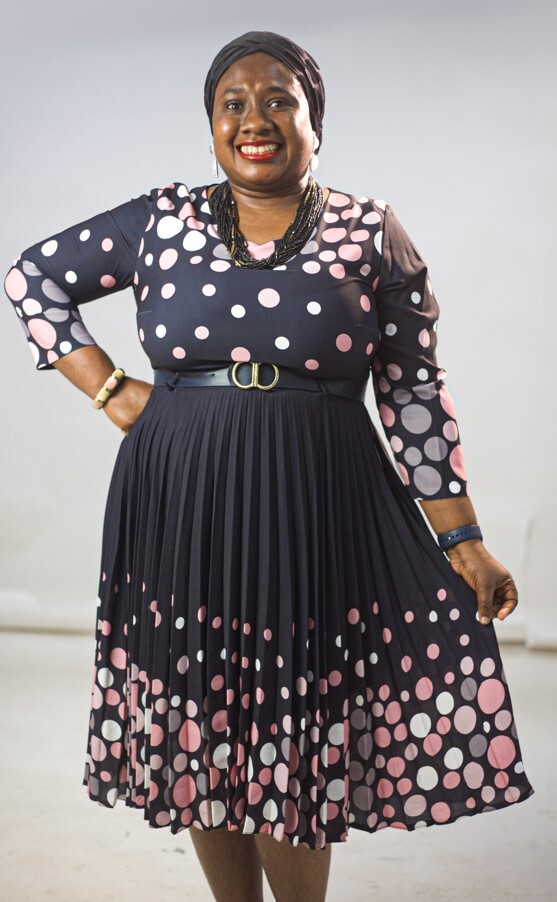 #SwitchStories is an exclusive spotlight series on life at Interswitch and the people behind our products. As part of Interswitch's 20th anniversary, this special series features old-timers at The Switch who have been part of the growth of the company over the years.
--------------------------------------------------------------------------------

From the shocker of having to call people by their first name, including the Founder and Group Managing Director, to having to learn on the job in a fast-paced environment, Mariam has come a long way from the green-eyed corps member that resumed at The Switch 13 years ago.
In her current role as HR Business Partner, Business Support and Recruitment, Mariam has grown to become one of the key members of the HR team driving the world-class employee experience that Interswitch is known for.
She shares her experience as a long-time employee of Interswitch while also taking us into her world of family and social impact interests.
Tell us about your job at #TheSwitch
I work closely with Business Leaders and Line Managers to build their people capability. I plan and Manage talent and develop approaches that achieve shared organization objectives.
What did you study in school and is it related to what you currently do at the Switch?
I have a B.A. in English and Literature. It's not directly related to what I currently do. I basically just found myself in HR, but I have done a lot of certifications. The most recent one is the Senior Professionals in Human Resources (SPHIR), an International Certification that I got last year.
How did you get into the Switch?
The period between my graduation and NYSC was over 4 months. I told people that I was interested in getting a job. There was a vacancy for an HR Administrator at Interswitch so the then CFO referred me to the HR Business Partner at that time. I went through the recruitment process; I did assessment, and I got the job pre-NYSC. I started working as an Admin Officer before I went for NYSC.
How long have you been in the Switch? Can you remember your first day in the Switch, what was it like?
I have been in Interswitch for over 13 years now. Mitchell will always say NYSC year or pre-NYSC year doesn't count but I will count it this time. So, 13 years cumulatively.
I can never forget my first day at the Switch. Honestly, I didn't know what to expect because I had never worked before, so I didn't have any experience. I didn't even know how to use a laptop. My supervisor then was the one who taught me everything and she was so patient with me, I am so thankful to her. Back then, I didn't know as little as Excel sheet and I was typing one by one. But today, I can look away and type a full page. I am grateful for growth.
Did you plan to stay this long at The Switch? What inspired your stay?
When I started, I didn't know what to expect or know how long I would work for the company But I was open-minded. I was moved to HR, so I started reading about the HR profession. As time went on, I started enjoying my stay there. A shocker for me when I joined was calling people by their first name, oh my God, before I opened my mouth to call Mitchell's name, it took a while. I would go near him because I didn't want to call him by his name. I would move close to people because I didn't want to call them by their first name. It took me a long time before I could do it.
Looking back, I would say the company's reputation for stability, the open-door policy, the close-knitted family spirit we shared from day one, the great company culture, the continuous development and the constant innovation are some of the things that have inspired me to stay this long at the Switch.
How is the Switch different from when you joined?
Interswitch is bigger now, we have more people, it's not as tightly knitted as it used to be anymore because of the size. We have more employees now which has impacted the overall business delivery. We are bigger, and the size now is something very key for the company to deliver the promises that we have told the people it will deliver on. Policy reviews were tough to implement in the past, but now there is a process, so it's faster. Policies are now being adopted in an easier manner; it wasn't this easy in the past.
What informed the decision of Interswitch to place a premium on staff welfare?
Interswitch wants to be an employer of choice. We want to be a force that people will reckon with in the industry. There are so many competitors that have sprung up, but we are unfazed. We are Africa's first unicorn, and we have no choice but to differentiate ourselves as an employer of choice. This means we are deliberately doing things that would keep our staff internally engaged and happy, and of course be able to attract best talents available out there.
What's your most memorable day at The Switch?
Honestly, I don't have a special one. Each day at a time has been memorable. The feeling when I get to work and the fact that I am part of a home-grown company becoming a global organization is special to me. I am thankful to be a part of that journey.
Interswitch is 20 this year, where do you see company in the next 20 years?
Silicon Valley, nothing less. Interswitch is one of the most stable and tested companies out of Africa. We are a homegrown brand that struggled through thick and thin to become a global brand. So, yeah, the sky is just the starting point.
What do you do to relax?
I watch movies on Netflix a lot. I read spiritual articles; I am also on a religious advancement journey. I want to get better as a Muslim. I love to sleep too and yes, I love shopping as well. Even when I am so stressed, just tell me "Let's going shopping," and I will be alright.
How have you been able to create a work life balance?
My interpretation of work-life balance is how I cope with family and work. What I do is that, I try to put in my best during work hours and give my full attention to family after work hours. Some things suffer, but as you grow older, you will devise a means of walking both paths more effectively. I am thankful that I have a good support system, my husband is very supportive. I am thankful we can balance it as much as we can.
If you were not currently doing what you do, what would you be doing?
I would love to give back to the society. I have started already; my husband and I have an NGO where we support people who have certain needs. I love impacting lives because I am a child of grace. So, I should give back. I don't have plenty though, but from the little I have; I feel like I can also extend to someone else.
I think I will also love to have a creche in the future. I have a firsthand experience in what moms go through in terms of work-life.
---