#TechItToTheNextLevel : Meet the Talented Trio from the Interswitch Career Fair 1.0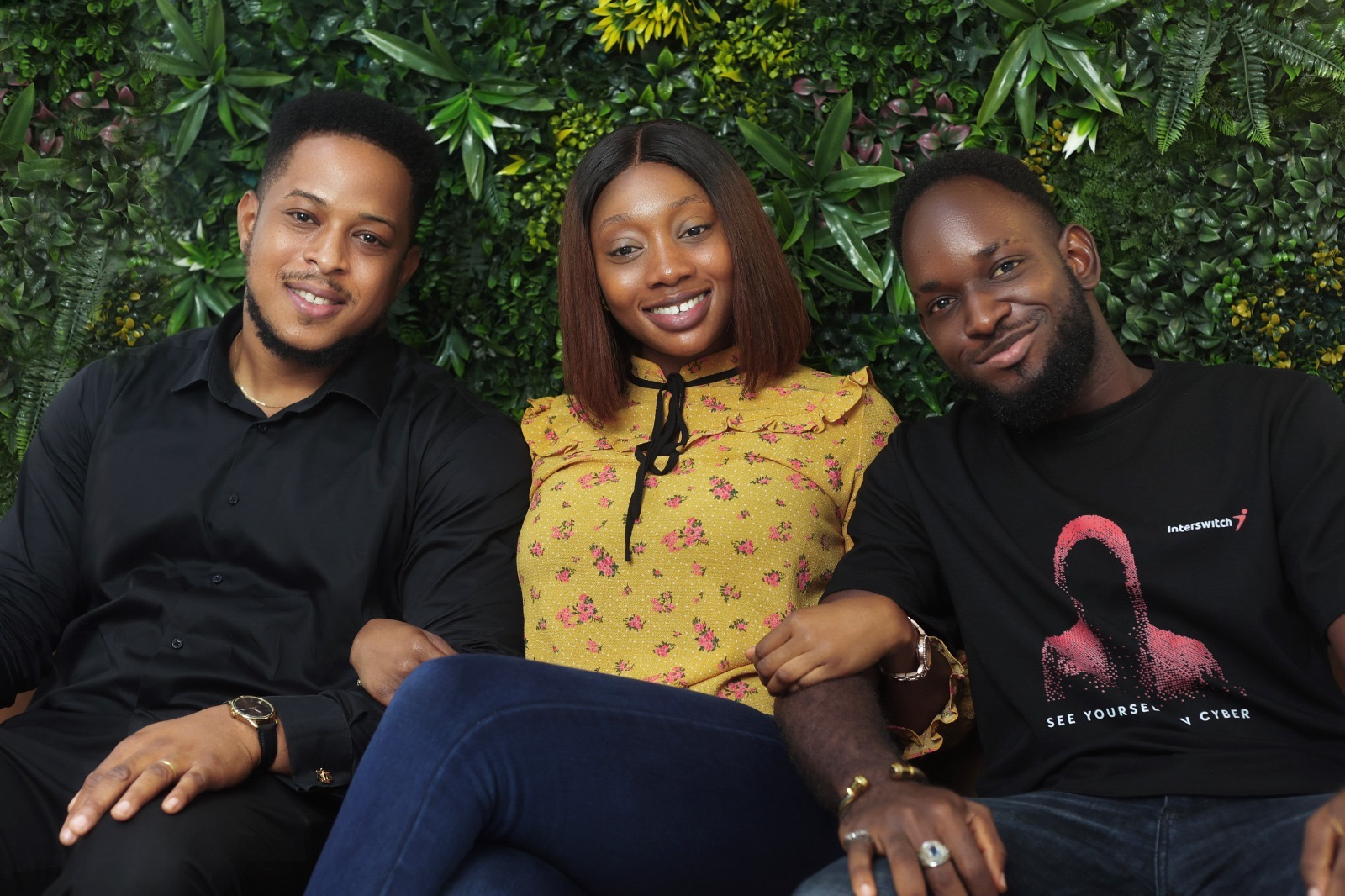 As we countdown to another edition of the biggest Career Fair, we had a chat with some of the beneficiaries from the past Interswitch Career Fair 1.0. Peter Usih, Oluwatowo Akinbode, and Chukwualuka Obichukwu took us through their journey before, when, and what they love about The Switch.

One of the highlights of our conversation with the trio is how strategic placement in any gathering can give you the needed boost to fly. Adjust your reading glasses and follow us as they answer some of our questions.
Question 1: Let's meet you, do you have a nickname?
Peter: People call me Uncle Pee (With the double "e")
Oluwatowo: My name is unique enough, so I do not have a nickname.
Chukwualuka: Just call me "Chuks"
Question 2: Use one word to describe yourself (Feel free to use two or three)
Peter: Easy-going
Oluwatowo: Organized and ambitious
Chukwualuka: Focused, goal-getter, not easily downcast.
Question 3: How did you learn about the Career Fair 1.0 and did you think you would land a job through the fair?
Peter: I got to know about Career Fair 1.0 while in NYSC camp. We had a visit from HR, and they told us about the great opportunities that await us at Interswitch for those who want to grow their career in the Tech space. I signed up after this visit, and I made it to the venue. I wasn't sure I would make The Switch at first, because of the crowd at the career fair. I met people with experience in the field and people that looked like geniuses to me.
Oluwatowo: I also got to know about the fair during my stay at NYSC camp in Lagos. HR members came to tell us about the amazing opportunities available for us and I decided to give it a shot. I Never for once thought I would make The Switch.
Chukwualuka: - I wasn't aware it was the first edition, and I am thankful I was part of the first set to benefit from the fair. I learned about the fair on the Interswitch LinkedIn page because I have been following them for a while. I went to Career Fair prepared, I strategically put myself in the right places. When I got to the location, I strategically located top people, visited their booths to connect and learn from them. This strategic placement gave me an edge as I kept connecting with people via LinkedIn before I officially got an interview invite, after which I eventually got the job.
Question 4: What made you want to join The Switch?
Peter: After hearing so much positive news about Interswitch, it was clear it would be a great place to grow my career path and gather much-needed experience to deliver value to Africa.
Oluwatowo: I have always admired Interswitch from afar, and how Interswitch inspires Africa to greatness. These are some of the reasons I decided to join and learn from them.
Chukwualuka: Some of my reasons is that I wanted to be part of people inspiring Africans to greatness. If you are looking to join the fintech space, Interswitch is the place to be because it is one of the biggest organizations in Africa in the fintech and payment space and also the best place to work.
Question 5: How has it been so far and what are the 2 things you love about your job?
Peter: I love how the people are compassionate; I remember one time, something happened, and I didn't have the knowledge about it, my team members rallied around me to help resolve the problem, it made me happy, and I learned from that. I also love how I get to learn new standard industry technologies and use my expertise to solve problems.
Oluwatowo: So far, it has been amazing. I love my job because it fits my personality. I always look forward to coming to work every day because I love what I do.
Chukwualuka: It has been exhilarating, exciting, and challenging. I love the fact that my product is new. Quickteller Homes connect users to tenants and landlords. I was part of the team that launched the platform.
It is exciting to see how when I joined, we had 8 agents on Quickteller Homes, but now we have grown to 400 agents, plus thousands of properties on the platform. It is exciting to see the growth of the product plus, I enjoy working with the amazing team over here.
Question 6: Use one word to describe your feeling when you got your offer letter.
Peter: Joyful
Oluwatowo: Halleluyahh!!
Chukwualuka: I was thrilled, anyone would be happy to make the switch. It felt like a great achievement.
Question 7: If you were a Nigerian dish, what kind of dish would you be and why?
Peter: Smokey Jollof rice, because it makes people happy
Oluwatowo: Amala & Gbegiri- because the combo is like that person you underestimate from afar, but when you get to know them, they become your go-to person every time.
Chukwualuka: Fisherman soup and pounded yam- Why; because it has a lot of condiments, there is a lot of traffic, and go slow going on in the stew, which makes it rich and delicious.
Question 8: Any word for people out there hoping to Join The Switch?
Peter: #NeverStop adding value to yourself, be prayerful, and eventually, you'll be switched on. When you have a goal make sure you work towards it, build yourself, and be well prepared before the opportunity comes your way. You need to make yourself readily available so that you can be employable.
Oluwatowo: Keep pushing and adding value to yourself. Try as much as possible to learn much and don't stop reaching out, don't be too scared to aim high.
Chukwualuka: - Keep your focus and keep working. If you are going to be at the career fair this Saturday the 13th of May 2023, strategically place yourself and come prepared. Put your best foot forward and see how things turn out.
If you would also like to #MakeTheSwitch, click here (www.interswitchgroup.com/careerfair ) to register for the Interswitch Career Fair 2.0.

---