Osasere Atohengbe: The Tech OG Who Wants to Be President Someday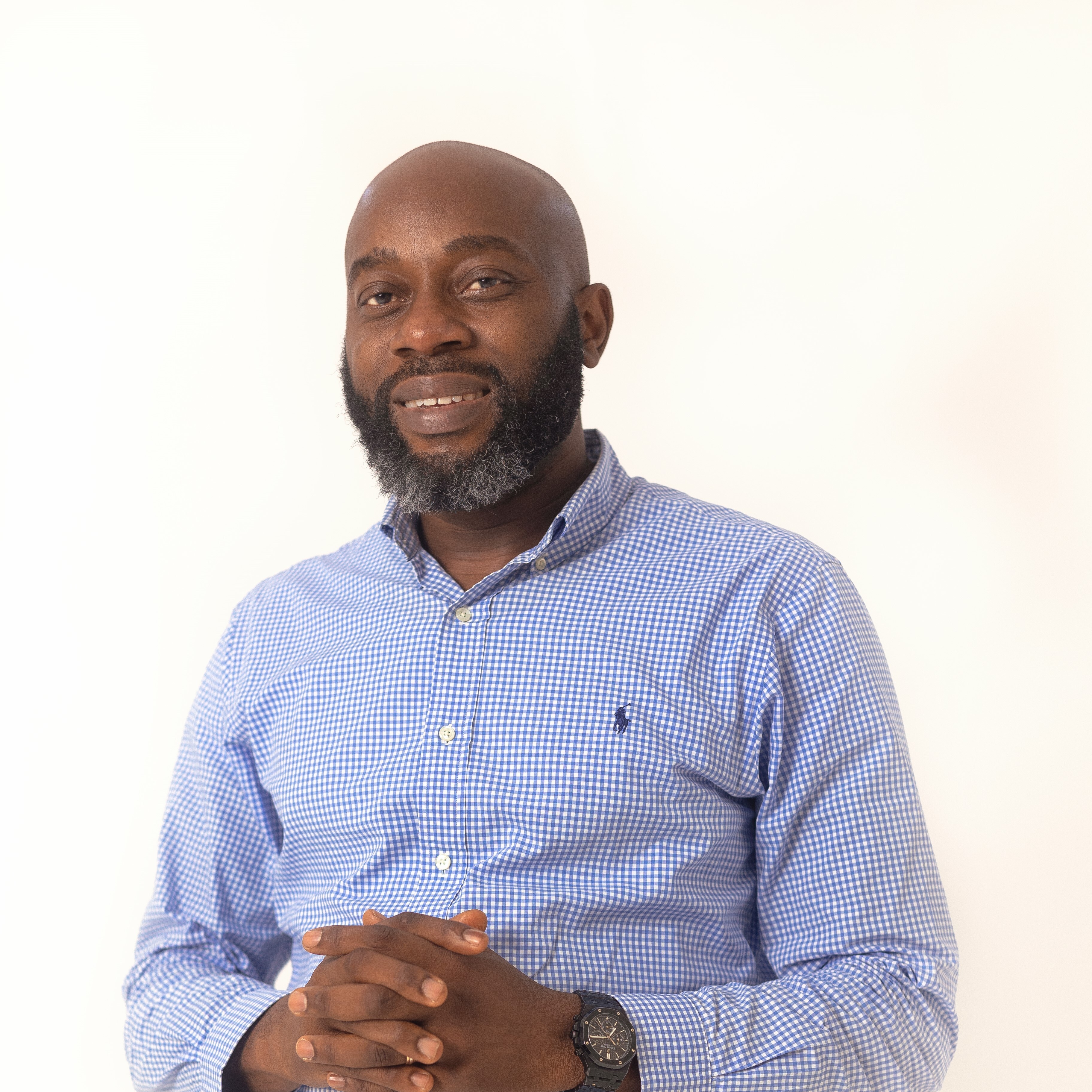 #SwitchStories is an exclusive spotlight series on life at Interswitch and the people behind our products. As part of Interswitch's 20th anniversary, this special series features old-timers at The Switch who have been part of the growth of the company over the years.
____________________________________________________________
Osasere is a tech guy, but he is not your typical tech bro. With a financial services career spanning over 16 years, Osasere has been playing critical roles on the business side of tech – leading Sales and Business Development, striking the deals that drive the Social Services ecosystem and making sure the products get to solve the problem of the end user – without ever writing a single line of code.
He joined Interswitch 11 years ago and in that time has risen to become the Regional Head, South Region and Group Head, Government and Social Service. With over a decade at #TheSwitch, Osasere has been a key player in the 20-year journey of Interswitch. In this interview, he shares his experience at #TheSwitch, his life as a family man, his dream of becoming the president of Nigeria someday and other interesting things you didn't know about him.
What does your job entail?
In simple terms, my work entails pitching the products and services that Interswitch has to the general public and getting them to onboard and use the various products and services that we designed to solve problems for communities, businesses and individuals.
What did you study in school and is it related to what you are currently doing at The Switch?
I studied Computer Science, and with Computer Science, I should typically have been a programmer or an engineer but fortunately or unfortunately, I ended up being both a business and a salesperson. My qualification or my discipline helps me somewhat because now I am between being a salesperson and a product person so most times when I try to dissect the product that we have, that discipline I have from the university has actually helped me to understand product from the design stage and I am able to interpret it because of the skill set that I gained in school. So, yes, somewhat, it is related.
How did you get into the Switch?
My career started in the banking industry and because I was working in the e-business department, I typically had one or two interactions to do with Interswitch. I was in the bank when consolidation happened in the banking industry. The bank I was working at almost lost its license and was taken over by AMCON and had to change its name. So, those last days, it felt like the bank was just struggling and we were not in the heat of what was happening. I didn't like to be in a place where I was not at the core. So I woke up one morning and said it was time to leave. I sent out my CV, I targeted three Fintech companies, the leading ones at the time. I sent it to their emails directly. Mitchell responded. Two other fintech came in but I knew my target was Interswitch. Although, I actually just sent out my CV and said anything that comes in. One of the Fintech called me first but when I got into the environment, the reception to the office was not impressive. I told myself that I can't leave a bank to come and work here, so I didn't go back. The second company reached out but they didn't follow through and then Interswitch called me. I watched the environment and said well, leaving the bank, this is where I need to work, somewhere that gets the recognition that it deserves and from there, interview after interview and here I am in Interswitch.
How long have you been in the Switch? Can you remember your first day in the Switch, what was it like?
My first day was October 4th 2011, which I can remember vividly. This October will make it 11 years since I've been in the Switch. I started my career in the Lagos office and then left Lagos in 2016. I was in Lagos from 2011 to 2016. I left for Port Harcourt in 2016, and I am back now. That's a period of five years in Lagos and six years in PH.
How is the Switch different from when you joined?
I won't say much has changed. I know the environment I was coming from then, the bank and then Interswitch. The change then was a more drastic change for me. In the bank then, you see your superiors as demigods, so much pressure here and there, it wasn't a friendly environment. I came into Interswitch, and we had a lot of millennials. When I came in then and people were allowed to express themselves, and call people by their first names. From then till now, we have seen even more younger people come in. It's actually a more relaxed environment, compared to then when we used to put on a tie to look like bankers. We also have more friendly policies from management. Interswitch has always been people-friendly, and management tries to create some level of equality around the policies that they make, and ensure that everybody is treated fairly. Interswitch is a place where everyone has a voice, and it has always been a place where we have extremely intelligent people and good enough, we have stayed with that. We have more intelligent younger people coming in. The policy has been more and more people-friendly, and the emphasis has been on family, work-life balance, and taking care of your life after Interswitch, and I think all of these work towards ensuring that the place becomes more of an interesting place to work in.
You've worked in both Lagos and PH, if you had a choice, which city would you rather work in?
Initially, when I moved to Port Harcourt, I resisted it for a while, I didn't want to move because I had not worked in that environment before, but then I took up the challenge. The vision was sold to me on what the company was trying to do then, around ensuring that we regionalize and get our products as far as to the last man and the only way we can do that is to have people on ground in those places. Again, I took up the challenge and it was a jolly ride, it was interesting, and it allowed me to have a closer rapport with family because the issue around traffic and the time wasted on the road were all removed. I learnt a lot and the engagement was more and we were able to make progress.
Also, the Lagos factor is true. You can't dispute the vibe that Lagos brings. This is where Fintech is basically in the industry and all the new things happening. You know Lagos still controls a truck of the GDP of Nigeria, and if there is anything that needs to be tasted in the environment today, Lagos is the best place because of the numbers, the demography of the people that stay here, it has a large number of the working and middle class. Port Harcourt gives you the family bond and allows you to relax more, but Lagos allows you to connect more and be in tune with the fintech industry. Most of the fintech you see today started in Lagos.
What's your most memorable day at The Switch?
The one that sticks to mind is the profit share that was done. I had very high hopes for what it was because I know then Mitchell had talked a lot about it so that day when the profit sharing was done, I was not very happy, maybe because my mindset or expectation was much more than I got. I went to the HR lady and complained to her directly, making her understand that my expectation was not what I got. The next day, I got a call from Mitchell about the fact that certain mistakes were made and I got an offer that was wow. That day is stuck in my mind and it's something I will forever cherish.
Interswitch is 20 this year, where do you see the company in the next 20 years?
Looking at what we have achieved in the last 20 years, I will say that it is worth celebrating, bearing in mind that Interswitch led the way, and led the path for this booming Fintech industry. You can hardly look at leaders in the tech sector without them having one form of interaction with Interswitch at one point or the other in their lives. It's something we can look back at and say in truth, we have achieved.
Over the years, we have had competitors left, right, and centre, Interswitch has been able to move beyond every challenge and has come out very strong. It has become a company today that has so many solutions targeted at different sectors. Different product brands, from Verve to Quickteller to our Corporate Solutions to all our Switching Businesses, and in all of this, we have different competitors who are typically challenging on all this front, but we have stayed largely, and we are still very relevant.
With all the things we are doing, I believe that it all points to that the next 10, 20 years will be something that we will continue to remain fruitful. I am confident and know that the future is bright with the opportunities that exist in the future and with all the things that we are currently doing, with the little I am privy to in Indeco, and some of the other businesses, we are planning already for the future, it is an exciting ride for the future in the next 5, 10, 20 years at Interswitch.
What's something you wish you knew earlier in your career?
For my career, with the Computer Science that I studied, maybe I would have focused more on going deeper into the Technical side because of the kind of demand you see from Engineers these days, you will just be wondering if it will get to a time when Fintech companies will rely solely on the Engineers. The number of Engineers we have available for us to use today is not as much as we require, it is a talent, and skill set. I studied computer science but there was not too much emphasis on going deeper into technology back in school. Computer Engineering would have been something I would have loved to go deeper in because of where the future is going, and all the things around engineering, automation, and the demands for Engineers here and there. I think it would have given me a different perspective on how things are going, something I typically would have loved to do looking at the current Fintech climate in Nigeria today.
Considering you didn't get exposed to technology early enough, are working towards having your kids get exposed to it from an early age?
Oh yeah, the opportunities I missed are the things I am exposing my kids to very early. I studied computer science and graduated in 2003, but I am not sure that I had the opportunity to own a personal laptop. What I have done deliberately is to get my kids into coding school as young as they are at 5, 6 years old. Coding school, getting them PC and exposing them to different applications will help them typically in the long run and prepare them for the challenges that Tech will bring. In a short while, Interswitch will start getting graduates between 15 - 16 years of age, because the set tools and the applications will get more friendly such that young people can work on them. So the earlier kids are exposed to Science and Technology, the better.
How have you been able to create a work-life balance?
It was a struggle initially when I got to Port Harcourt and the responsibility grew more and more. However, being in Port Harcourt afforded me the opportunity to have more time. After 5pm, I try to put work behind me and ensure that it is the kids' time. Sometimes it is a struggle because the work is a lot, but what I do is the moment I get home, I try to ensure that all my work tools are far away from me as much as possible so that I am able to focus on my family. And then again, there is church, over the weekends, and on Sundays too. I try to keep to my 5pm for work and shut down afterwards to focus on the kids because they are fond of me. I spend time doing their homework and getting involved in their lives, and the weekend is for unwinding, seeing movies, and maybe football. And sometimes I can sit all day watching football as long as they are showing interesting matches. I am a TV person. I watch a lot of movies on Netflix. I unwind with family, movies and football.
If you were not currently doing what you do, what would you be doing?
I have thought about it severally and I think that I have the gift to teach. Teaching people or communicating things is something I feel that I have the gift for and would want to pursue in the nearest future. Being the president of Nigeria is also something I am aiming for. I know that one day, I will be the president of Nigeria and I know that it will come to pass. I have a passion to lead Nigeria, and how that will happen, I don't know, I don't think I am taking the necessary steps to make it happen but I have this strong conviction that I have the emotional intelligence to lead this country and the right skill set.
____________________________________________________________
New episode of #Switchstories drops first Friday of next month...
---