We've #SwitchedOn some amazing new perks!
From early on in our journey as a business, it has never been lost on us that the satisfaction enjoyed by our customers and partners directly impacts their loyalty to our offerings, and their affinity to our business.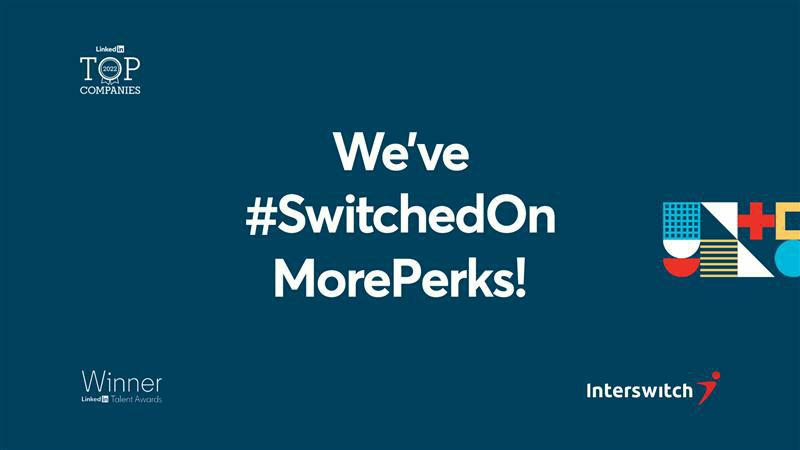 At Interswitch, we've always been firm believers in the concept of the service-profit chain model, essentially recognizing that a strong connection exists between our capacity to deliver sustainable impact, our ability to inspire customer loyalty and satisfaction and to assure the utmost productivity and satisfaction of our most essential assets; our people.
From early on in our journey as a business, it has never been lost on us that the satisfaction enjoyed by our customers and partners directly impacts their loyalty to our offerings and their affinity to our business. This satisfaction results from the value the customer receives from our satisfied, productive and loyal employees – our phenomenal #PeopleOfTheSwitch.
We're therefore delighted to announce that effective 1st April 2022, we've put in place a number of unique and family-friendly benefits which include:
Home Country Mobile Status: In line with the reality occasioned by the new world of work in contemporary times, HCMS empowers our employees to work fully remote from countries/locations, other than their home countries, where their families are resident, for up to 4 months within a financial year.
Child Education Support: Interswitch will now subsidize the fees paid by its employees at various stages of their children's education. Eligible employees will enjoy this annual payment throughout their stay at #TheSwitch.
Spousal Support – In recognition of the support provided on the home front to its employees, Interswitch will now pay a quarterly allowance (directly) to all spouses of our employees.
Enhanced Maternity Benefits: Upon resumption from their maternity leave, Interswitch employees will now have the opportunity of working fully remote for the first 3 months instead of resuming onsite. At the expiration of this, there is a further provision to work twice a week onsite allowing them 3 days a week to work from home till their babies are 9 months! Interswitch will provide creche support services upon resumption of Hybrid work. The service will be available for 6 months!
'Acting'/Step-up Allowance: Employees who are appointed to a vacant, higher-graded role in acting or temporary capacity shall be remunerated in line with our new 'step-up' policy, for the duration the employee functions in this capacity.
Speaking about employee benefits, the curious observer may wonder why we have gone to this extent, coming barely 2 months after we effected a cost-of-living adjustment (COLA) for all employees across the board? At Interswitch, we recognize that an empowered, engaged and motivated workforce, in this case, our #PeopleOfTheSwitch are the most potent capital for driving customer loyalty through the delivery of services and experiences that not only satisfy our customers and stakeholders but exceed their expectations and delight them. Based on the workings of the service-profit chain, this would invariably impact our revenues and profit as an enterprise.
We are not in doubt as to the reality that when our #PeopleOfTheSwitch are engaged, productive and highly satisfied, only then does #TheSwitch itself stand the chance of succeeding.
In the words of 'Big Mitch', "At Interswitch, we believe that our people are reasonable and intelligent, and our view of leadership is built on two pillars - the ability to organize and essentially, the capacity to motivate. The motivation aspect speaks to freeing people to do willingly and well, whatever needs to be done, having created an enabling and liberating environment that allows them to bring their best to bear on the job, day in, day out.… What we endeavour to actualize every day is to make Interswitch an example of what we believe is a great company."

Interswitch was recently recognized as a Linkedin Top-Company (2022), on the heels of our earlier nomination and certification as a Winner in the 2019 Linkedin Talent Awards, in which we were recognized as a 'Sub-Saharan African Rising Star'. These recognitions are a reflection of the deliberate investment we make in our people as well as in consolidating and shaping our employer brand, including unique approaches to talent attraction, nurturing and engagement.
---