Quickteller Business Merchant Spotlight June - Posh Meals
After trying orthodox medicine for her ailing mother with no improvement, Bilqis only saw tremendous results with zobo herbal drink. It was this revelation which encouraged her to start her Zobo business.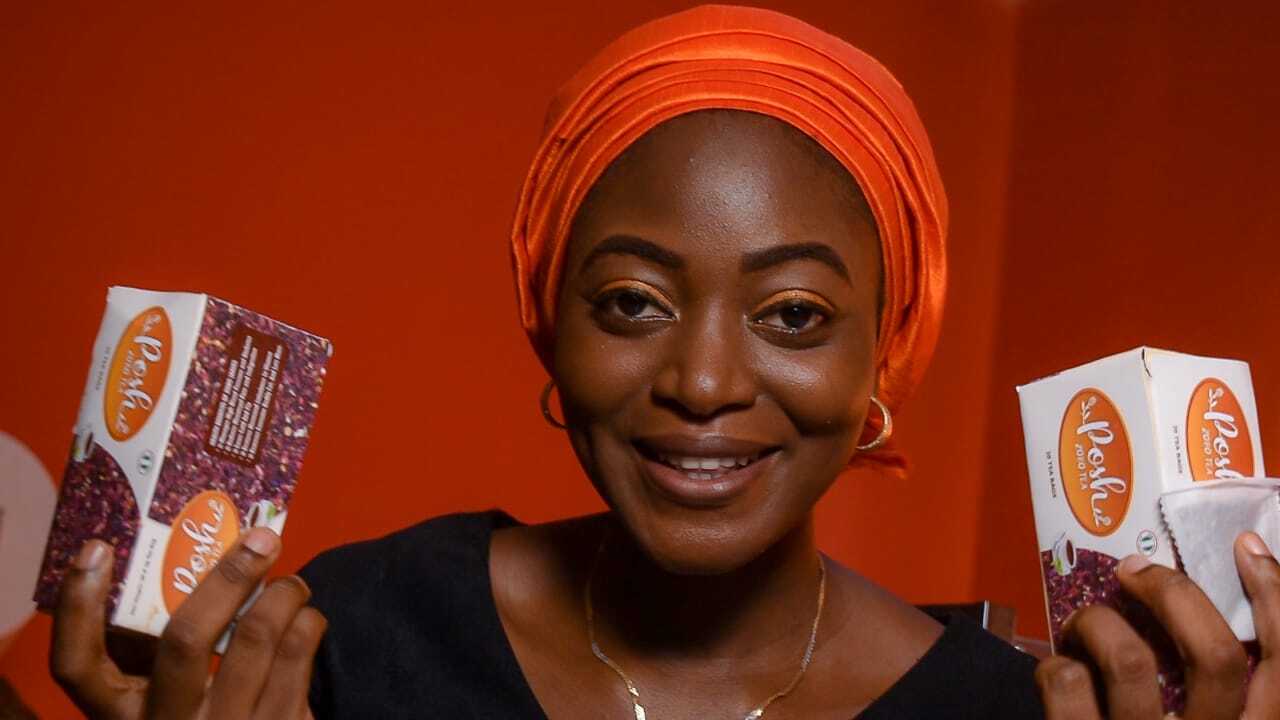 After trying orthodox medicine for her ailing mother with no improvement, Bilqis only saw tremendous results with zobo herbal drink. It was this discovery that encouraged her to start her Zobo business. Today, "Posh Meals" has become a leading brand name and with Quickteller Business, now able to acquire the necessary equipment needed to improve business operations.

About Posh Meals
Based in Ilorin, Kwara, Posh Meals is a catering and food drink supplier. Catering to small and large events in Nigeria, the leading brand is known for it's excellent customer service and superb delivery.
--
1. Please tell us your name
My name is Bilqis Idiaro Esq.
2. Please provide a brief description of your business
We are a NAFDAC APPROVED Zobo Tea Bag production company that converts the conventional Nigerian Zobo Drink into a herbal Tea Bag for the management of identified health problems like diabetes, hypertension, etc, thereby aligning with SDG 3, 9 & 12 which has helped manage my mum's diabetes since 2011 till date.
3. Why did you decide to go into Zobo Tea Bag production? And how long have you been in the business?
My mother had a critical health condition of diabetes 11 years ago which we couldn't properly manage using orthodox medicine, but could manage with the herbal Zobo drink.
After we got tremendous improvement in her health, I realized that the herbal Zobo drink can actually cure and manage diabetes. It informed my decision to start the Zobo drink business while still in the university.
I sold Zobo drink and made a lot of profit from it, so much that I actually paid for my law school form which was N30,000 back in 2014.
Then in 2020 when the COVID-19 pandemic lockdown started, the patronage for my Zobo drink reduced drastically, it was then I realized selling my Zobo drink at that period profitably was no longer feasible due to the restrictions in movement and the extra caution everyone was taking to stay safe.
I remember telling my husband about Zobo tea bag idea I had that period, he looked at me like I was thinking of the unimaginable 😅, he was curious as to how I would achieve it knowing fully well I had no prior knowledge about powder beverage innovation before then.
I then challenged myself and eventually tried my hands at converting the Zobo drink into a tea bag. After several trials, we had our eureka moment when it finally came out nice but at first I couldn't try it myself because I was scared I had failed. I took a step further to do a lab test for it and the results came out great. That was the big push I needed to apply to NAFDAC for its registration.
4. What are your biggest challenges as a small business owner?
My biggest challenges were not having industrial machines to ease and speed up production.
I remember we would spend several weeks producing a few boxes of our tea bags using manual equipment which was very tasking, money and time consumption.
5. What are the top 3 mistakes you have made as a small business owner?
The top 3 mistakes I made as a small business owner are:
- Starting the business from the scratch without any form of tutorial from an expert in the tea bag industry. I practically taught myself everything from start till date. I actually think I would have done better if I got a few tips from an expert in that field.
- Another mistake I made was that I didn't know much about business money management, although the business generated little revenue when it started, no profit was recorded for a very long period of time. Thankfully, my husband who is an accountant would always drag me to learn how to record and manage our proceeds.
- The biggest mistake I think I made was not having the guts to register my Zobo drink with NAFDAC when I started the Zobo drink business. It seemed like an impossible thing to do, I actually thought only the rich could afford to register their products with NAFDAC considering the industrial machines needed for commercial production, I never even attempted to visit the NAFDAC office for enquiries.
6. How did you discover Quickteller Business?
I discovered Quickteller business on the streets of Instagram, I first applied for the pitch Competition in 2021 but I didn't win, then I decided to put a little extra effort into the 2022 application process.
Interestingly, I was expecting a baby on the day I pitched my business idea to the Quickteller business team, I was 40 weeks gone on that beautiful day.
7. How has Quickteller Business helped your business? What challenges has it solved for you?
Quickteller business has helped us automate our payment system as opposed to the manual bank transfer system we often used.
8. What's your favorite Quickteller Business feature/what feature do you use most often?
The link to receive payments is my favorite, it simplifies the whole process of trying to confirm a bank transfer and takes off the risk of being duped with fake bank alerts by scammers.
9. Share one piece of advice you have for small business owners.
My advice to fellow young entrepreneurs is to be consistent with business regardless of not having a breakthrough in the first few years of business.
I have been in the Zobo business since the year 2011, if I wasn't consistent with the Posh Zobo Tea Bag brand, scaling the business to the point of deserving to win A MILLION NAIRA grant from Quickteller Business to further scale the business wouldn't have been possible.
10. What is a random fun fact nobody knows about you?
A random fun fact nobody knows about me is that I cook even when I am very sick 😂, cooking is just a part of me, it's a hobby I enjoy doing always, both in small and very large quantities.
It's weird that I go as far as creating new recipes when I am under pressure and have very limited time to cook, especially in the numerous cooking competitions I have won since I was an undergraduate.
--
Thinking about starting or growing your business, get visibility with a Quickteller Business. Create your free online store in 5 minutes or less with Quickteller Business Storefront.

Follow us on social media
www.instagram.com/quicktellerbusiness
www.facebook.com/QuicktellerBusiness
---